Benefits to training with Sensei Alexei
Programs > Personal Self-Defence and Martial Art Fitness
Training with Sensei Alexi Goudkov presents unique and powerful benefits over other Personal Training and MA styles of self-defense: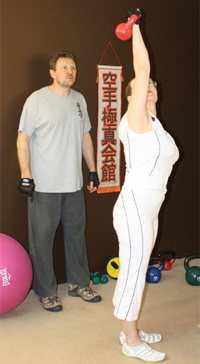 Sensei Alexei has spent

over thirty years coaching successful international and national competitors

in full contact, knockdown, semi-contact and formal exercise championships in Europe, Russia, Canada and USA
Because of Alexei's vast experience, his

training methods and knowledge base offer

newcomers and veteran students alike

a unique blend of advanced techniques that beginning instructors are unable to provide

.
Sensei Alexei's classes

cover the full spectrum of advanced techniques.

His sessions are

specialized with a focus on effectiveness and functionality

and taught with an

easy-to-understand

approach that makes sense.
Most importantly, the drills and exercise taught

can be applied to all other forms of martial arts

.
Alexei incorporates a wide array of self-defense and lifesaving techniques into almost every class. Drawing from his deep knowledge base and personal experience, Alexei has been

successful in training students

from all walks of life

, whether they are

police officers

or

military personnel

to those with no previous self-defense experience.
Techniques learned in Alexei's Dojo can

inspire confidence when dealing with difficult

or

life threatening situations

.
"...my friends, my acting agency and family cannot recognize me.
I became strong, confident, beautiful and even got part in a "Stargate"..."

- Natasha Vasiluk, Actress
Alexei's goal is to create positive transformational changes in his students beyond what they thought possible. To leave the Dojo with the confidence that comes from studying established martial arts techniques from a teacher with decades of experience is Alexei's only wish.
See you in the Dojo!